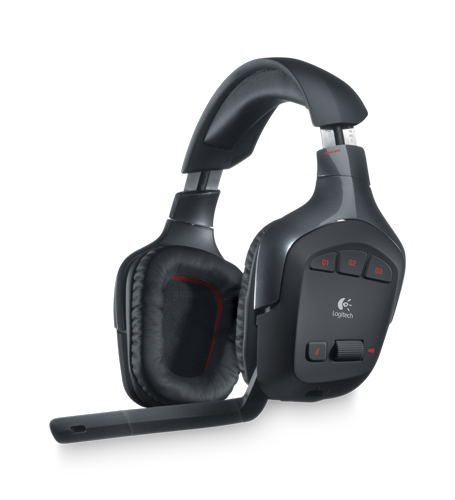 Written by: Jason "Grackis" H.

Lets me start this review by saying, this headset is BY FAR the BEST Headset I have EVER used, EVER! Now lets take a look at some of the Logitech G930's Features.


2.4GHz Wireless Connectivity Featuring an advanced 2.4GHz technology, the Logitech G930 delivers lag-free, interference-resistant wireless connection with a range up to 40 feet (12 meters)—so nothing stands between you and victory.

Superior 7.1 Surround Sound Powered by the advanced Dolby technology, the Logitech G930 delivers a detailed sound field that lets you hear your enemies before they see you.
Programmable G-Keys Three programmable G-keys deliver easy control over music,voice morphing, chat clients and more at one touch of the button.

Noise-Canceling Mic with Auto-Mute The microphone reduces annoying background noise for clear, intelligible voice commands, and automatically mutes when you rotate it up and out of the way, with the light located at the tip glows red for mute status.

Comfortable Wearing The plush, noise-isolating ear pads ease pressure points and seal out unwanted noise, and adjustable, memory foam-lined headband creates a personalized fit to fend off fatigue, delivering great listing comforts even during long time of wearing.

Painless Recharging Recharge using the universal micro-USB cable—even while you're still playing. When charging is complete, wrap up the cable inside the charging base.
Okay, So it sounds really bad a$$ after seeing those features right, but is it really? Lets Analyze each one of these features.
"2.4GHz Wireless" - The Wireless Signal is Definitely solid, I hardly ever have any disconnects from the headset and the response time is great! Some things I've noticed though is that the headset can have "some" mild impact on wireless decides that are near the headset. Also if you are near your Microwave is goes nutts!!
"7.1 Surround Sound" - Being Abel to turn this feature on and off with a quick switch on the headset is priceless! Depending on what I'm doing i like to have normal stereo enabled, but when I'm ready to play those high action paced FPS's Blindfolded and know exactly where the enemy is coming from simply by the sound of their feet I turn this feature on and it takes my gaming to a whole new level!
"Programmable Keys" - Being Able to use Push to talk on ts3/vent from anywhere in my house is so useful!! You can also control your music playlists, Sometimes I'm outside Working in my yard rocking my headset listing to music, talking on Ventrilo. It's awesome :D
"Noise Canceling Mic" - I haven't had any complaints about this, and when i make videos it always is crystal clear sound.
"Comfortable" - The Memory foam head band and ear muffs make this headset one of the MOST comfortable headsets I have ever owned in my life.
"Recharging/Battery" - The battery lasts a solid 10 hours on a full charge. Also being able to recharge the headset while using it is priceless. The expandable recharging cable is organized and useful, the extra length insures that you can play while charging.
All in All, I would say this is by far, the best gaming headset I have ever had the pleasure of using. from its amazing sound quality, fast response times and comfortable ergonomic design, I would recommend this headset to any of my professional gamer friends.